A lot can happen in 50 years, so there was some investigation to do to see what the car really was
the build date is 06A, first week of June (1968) which would make it relatively late in the production run.  It has a NOR designation, so it came from the Norwood, OH plant.
68-12427 translates to 1968 Camaro V8 coupe.
The paint code is UU, which translates to blue.  The butternut yellow was not the original color.  The 712 interior code checks out as a black standard interior though.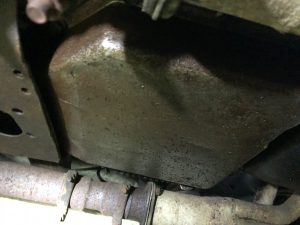 The transmission pan gives it away to be a TH350, not the original powerglide transmission.
The block application code is CKL, which decodes to it originally being a 1973 350 from a California application.  Not a particularly rare or high perf model, probably 175hp originally.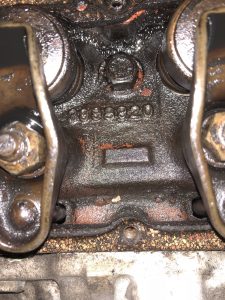 The heads are 3998920 castings, low performance smog heads
The Carb is a Holley list 80457, generic 600cfm vac sec with electric choke.
The intake is an Edelbrock Performer, with a 1″ carb spacer.